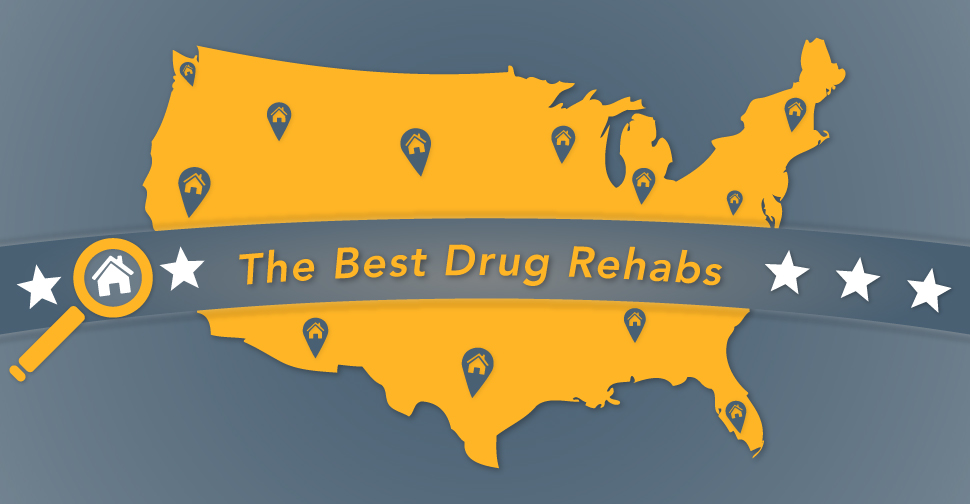 Recovering from an addiction is a long and difficult process. It is also one of the most important things that you will do in your life. And while only one person can decide to make the change, it is anything but a solitary process. As such, it is crucial that you have the best people and facilities to help you along the way. We endeavor to help you with this quest, compiling a series of the top ten best drug rehab centers for each state in the country.
To find these drug rehab centers, we conducted in-depth research across the width and breadth of recovery options in each state. We looked at the various features of each facility, as well as reviews from former clients. We then weighed the centers, based on how well they did on these, using the following categories:
Customer Experience
Staff Helpfulness
Treatment Success
Accommodations
We pulled data from different sources and numerous reviews across the web, then compiled a top 100 for each state. We then ranked them by weighing each category, based on importance. The first was Treatment Success—meaning the overall success and effectiveness of treatment received—after this, Staff Helpfulness, followed by Accommodations, and finally Total Customer Experience. Many of these facilities are evidence based which is also something to look for.
These categories helped us to narrow down the rehab centers in each state to an elite few. We then used one final filter—we took to social media. Scouring across multiple social networks, we watched the conversation and customer comments, and those with good mentions and positive reviews went to the top of the list.
So check out our lists to find out the best rehab centers of all kinds in each state, and don't be afraid to make that big step to find a good treatment facility for yourself or your loved one.
10 Best Drug Rehab Centers in Alabama
10 Best Drug Rehab Centers in Alaska
10 Best Drug Rehab Centers in Arizona
10 Best Drug Rehab Centers in Arkansas
10 Best Drug Rehab Centers in California
10 Best Drug Rehab Centers in Colorado
10 Best Drug Rehab Centers in Connecticut
10 Best Drug Rehab Centers in Delaware
10 Best Drug Rehab Centers in Florida
10 Best Drug Rehab Centers in Georgia
10 Best Drug Rehab Centers in Hawaii
10 Best Drug Rehab Centers in Idaho
10 Best Drug Rehab Centers in Illinois
10 Best Drug Rehab Centers in Indiana
10 Best Drug Rehab Centers in Iowa
10 Best Drug Rehab Centers in Kansas
10 Best Drug Rehab Centers in Kentucky
10 Best Drug Rehab Centers in Louisiana
10 Best Drug Rehab Centers in Maine
10 Best Drug Rehab Centers in Maryland
10 Best Drug Rehab Centers in Massachusetts
10 Best Drug Rehab Centers in Michigan
10 Best Drug Rehab Centers in Minnesota
10 Best Drug Rehab Centers in Mississippi
10 Best Drug Rehab Centers in Missouri
10 Best Drug Rehab Centers in Montana
10 Best Drug Rehab Centers in Nebraska
10 Best Drug Rehab Centers in Nevada
10 Best Drug Rehab Centers in New Hampshire
10 Best Drug Rehab Centers in New Jersey
10 Best Drug Rehab Centers in New Mexico
10 Best Drug Rehab Centers in New York
10 Best Drug Rehab Centers in North Carolina
10 Best Drug Rehab Centers in North Dakota
10 Best Drug Rehab Centers in Ohio
10 Best Drug Rehab Centers in Oklahoma
10 Best Drug Rehab Centers in Oregon
10 Best Drug Rehab Centers in Pennsylvania
10 Best Drug Rehab Centers in Rhode Island
10 Best Drug Rehab Centers in South Carolina
10 Best Drug Rehab Centers in South Dakota
10 Best Drug Rehab Centers in Tennessee
10 Best Drug Rehab Centers in Texas
10 Best Drug Rehab Centers in Utah
10 Best Drug Rehab Centers in Vermont
10 Best Drug Rehab Centers in Virginia
10 Best Drug Rehab Centers in Washington
10 Best Drug Rehab Centers in West Virginia
10 Best Drug Rehab Centers in Wisconsin
10 Best Drug Rehab Centers in Wyoming